Joe Donnelly
April 17, 2013 - 9:19 am
Cellar Door Games, the studio behind indie game Don't Shit Your Pants, has released new project Rogue Legacy onto Steam Greenlight.
Don't Shit Your Pants still makes me laugh. It's a simple text adventure, sorry,'survival horror' game about a man who has 40 seconds to ease his bloated bowels, or face the inevitably messy consequences. It's priceless. Cellar Door Games' latest project, Rogue Legacy, is not a survival horror faecal function-inspired endeavour, but a 2D platformer, and has just touched down on Stream Greenlight.
The official trailer launched yesterday, portraying the tale of a knight who dies, only to be avenged by his many sons. It's clear from the off that Rogue Legacy is heavily inspired from the one million and one Metroidvania style platformers which have gone before it. What is intriguing though, is that each and every redemption hunting son harbours a unique ailment, as opposed to a more orthodox special power or power-up. These range from stereo blindness and colour blindness, to dyslexia and irritable bowel syndrome (an ode to Cellar Door's previous work). The sons also fall into class categories which determine their style of combat. Other features include a keep system, where the player can rebuild and customise their HQ, as well as "procedurally generated castles", meaning no play through is the same.
Cellar Door Games have shown they have a sense of humour before, and if Rogue Legacy carries on in a similar vein, then it should be one to watch.
Rogue Legacy is "A procedurally generated adventure" and  has "tons of unique traits that makes each playthrough special", according to the Cellar Door Games blurb on their Greenlight page. What it isn't is "Hitler". So there you have it.
Check out the trailer below: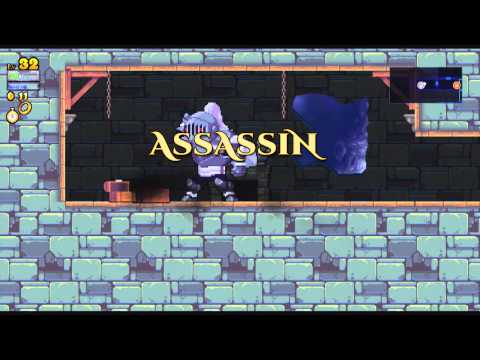 Rogue Legacy can be voted up on Steam Greenlight now.
For good measure, you can play Don't Shit Your Pants free here.