Mark Seymour
November 24, 2012 - 1:28 pm
Video: With the hotly-anticipated launch of Far Cry 3 less than a week away, here's a trailer that teaches the fine art of stabbing dudes until they're dead.
A friend and I once dedicated an entire twenty-minute game of Battlefield 3 to destroying enemy tanks. Not by conventional means – I wouldn't waste your time on an anecdote like that – but by strapping C4 to the bonnet of a sand-buggy and piloting it into whichever of the enormous brutes had its back turned at just the right time. After many failed attempts and a shared K/D ratio that would have made ours mothers reel, we finally made sweet love to the tank with the front-end of our car and promptly sent everybody on their merry way to Kingdom Come. At least, that's we thought. But as the smokey air cleared and our corpses landed some fifty feet away we were punched by the cold, clenched fist of actuality. It didn't work. Our buggy was left a smouldering tin-can. The mighty tank no worse for wear. Celebrations were curbed, tears were shed and the shared dream of two men suffering from acute arrested development was left bleeding wretchedly by the wayside.
So it's with the utmost joy I bring you this trailer for Far Cry 3 in which series producer Dan Hay talks about all the ways to kill people on Far Cry 3′s paradise island. There's shooting people, of course, and there's stabbing people, because what kind of half-arsed first-person shooter doesn't do white-of-the-eyes stabbing these days? More importantly, though, there's strapping C4 to a hang glider and piloting it into an enemy encampment. Bravo Ubisoft.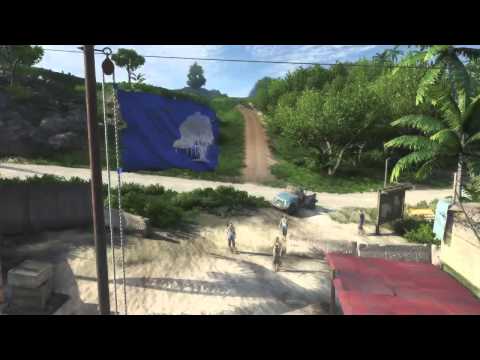 Now if only you'd would be kind enough to put Far Cry 3 on Steam in Blighty, I could throw lots and lots of money at you.
BeefJack has a wagonload of Far Cry 3 content for you to peruse through while you count down the seconds until the game launches (this coming Friday in the UK, December 4th in the Land of Uncle Sam).