James Haresign
October 17, 2012 - 3:00 pm
Preview:
NEED FOR SPEED: MOST WANTED

returns the franchise to Criterion and this time we're getting an entire city to play in, filled with cops who are a lot nastier and a damn site more persistent. James Haresign looks at what it takes to be the Most Wanted.
Need for Speed, despite being EA's premier racing series, went through a pretty rough patch a few years ago, and the brand was slowly but surely sliding into obscurity. But then a saviour turned up. Criterion. Having watched the Guildford based team steal the spotlight with Burnout, EA made the sensible decision of handing them the keys to the bigger franchise.
Criterion's first entry in the series, Hot Pursuit, was everything fans of the franchise had waited for. Finally we had a decent racer. Its pedigree was obvious, the crashes looked every bit like Burnout crashes, but at the same time, it was a Need for Speed too: the cops and official car manufacturers signalling this was the established brand.

The Burnout DNA looks even more obvious in Criterion's second turn with the franchise, Need for Speed: Most Wanted, so much so that it's difficult to remember not to refer to it simply as Burnout: Most Wanted. It's not just the crashes  this time, but lots of little touches like the takedowns getting more specific, and even the smashing of billboards that Burnout Paradise was so fond of.
Speaking of Paradise, Most Wanted is a return to an open-world setting with you being offered the roads of Fairhaven City. Not that it's the first Need for Speed to offer it, go all the way back to Underground 2 and you'll find an entire metropolis you can drive around in, but that city felt quite dead. Other racing cars were few and far between, until you activated an event, then magically a load of heavily modified Japanese imports and hot hatches would turn up. When the race finished, you were on your own again.
This city looks to be alive, and the police are a big factor in selling that. For all my love of Hot Pursuit, it did used to make me laugh that when you passed a finish line the cops stopped caring. Not so with Most Wanted. Crossing the finish line now just means you beat the racers. You still broke several hundred traffic laws, and if the crashes are anything to go by, possibly murdered a few fellow drivers too. The cops just aren't going to let you get away with that. Making your wanted level almost independent of races is a brilliant move, and one that adds a whole new complexity to the world. The Fairhaven City Police Department don't care one iota you just won a bet. They want to take you down, hard.
Keys to the City
What's more is that this Need for Speed doesn't keep cars locked away from you. They're just hidden. No more slaving away behind the wheel hoping that one day you'll get your hands on that Lamborghini Aventador. In Most Wanted nearly every single car is somewhere on the streets of Fairhaven City, you just have to find them. Theoretically you could be driving that Lambo within minutes of first starting that game, if you're really lucky, or just refuse to take part in any races until you get your hands on it.
This is the second game to take the Most Wanted moniker in the Need for Speed franchise, and the original bearer of the name came from the period when the series was taking its cues from the Fast and the Furious films. All tuner culture and bizarre racer stories told with hot models and unknown actors. The new version doesn't have any of that, sticking with the more common trend of exotics and super cars, and concentrating on driving them incredibly fast. However, it does take a few elements from its predecessor to earn the name Most Wanted, you know, apart from the massive amount of cops chasing you.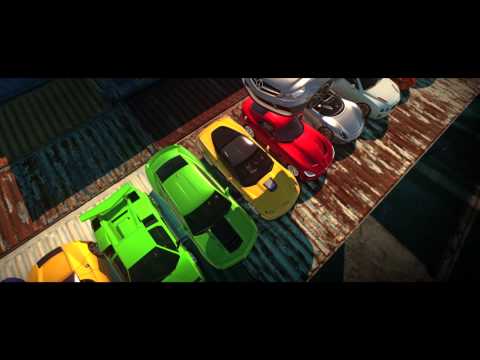 The Blacklist, the core concept of the original, returns. This is a list kept by the police of the ten best (or, from their perspective, worst) racers the city has to offer, and you take it upon yourself to reach the top of it, probably due to some sort of need for macho bragging rights. These ten racers also hold the only cars in the game that aren't scattered around the map, so if you want them you're going to have to beat them. We're back to racing for pink slips, just like the first The Fast and the Furious.
While the Blacklist is made up of AI, Autolog once again brings real world time sheets for you to battle against your friends, or get annoyed when you know one of them has to be using a Koenigsegg, because there's just no other explanation for that kind of time. As the game takes place in an open-world setting, Autolog has been retooled a little to function without having to head back to the menus, which sounds awfully handy. As long as it doesn't stop the sultry tones of the lady telling me "one of your friends has beaten you in events", it's all good.
Most Wanted is shaping up to form what could be the greatest Need for Speed or Burnout yet, and I for one am waiting with anticipation. Hot Pursuit is one of the best racers I've ever played, and one that I often go back to when the desire to burn some rubber hits. Criterion rescued the franchise two years ago, and after the disaster that was Need for Speed: The Run, it looks like they're set to do it again. Cop chases that look like they're set to put GTA to shame, unrivalled crashes, and the snazziest cars just waiting to be found - how can you not be excited?
Need for Speed: Most Wanted, from EA and Criterion, is due out November 2nd for Ps3, Pc, 360, and Vita.